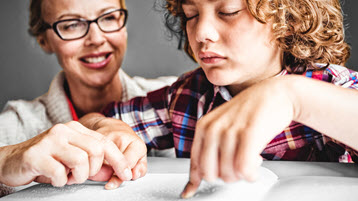 Absorbing all the features of JAWS, ZoomText, or Fusion can be a daunting task. When you add to that the nuances of G Suite, Microsoft Office, and other apps in your toolbox, a few hints would come in handy for both you and your students.
Below are links to several resources that provide teaching strategies and tips for using and customizing our products. Please use this material to support your students while integrating these programs into your classroom curriculum.
Training Modules
Our training series for teachers and assistive technology instructors serves as a guide to use when teaching JAWS. Through its targeted lessons, quizzes, and a multitude of free resources, you will gain new skills to help you train your students and clients.
Each month a new training module will be available. These modules and lessons build upon each other to expand your knowledge of JAWS. Our first module is "Lesson One, Learning and Teaching JAWS – Introduction and Resources." It shows you how to:
Navigate the Freedom Scientific Online Training Center.
Access JAWS training in DAISY format.
Access the Freedom Scientific online webinars and recorded archives.
Watch training videos on the Freedom Scientific YouTube Training Channel.
Locate accessible typing tutors and teach students basic document navigation.
Select the link below to open lesson one.
JAWS Training for Teachers and AT Instructors
Downloadable Resources
Many of our archived webinars include reference material to help you create and expand your teaching curriculum. You can download all of our useful teachers' resources by subject using the following links. These are bundled as ZIP files for your convenience.
Typing Resources
Mastering the basics of typing is crucial to anyone using JAWS. Several companies offer applications that can help teach typing skills, such as: