Do you know a K-12 student using assistive technology who deserves recognition for their educational achievements? Tell us more and nominate them as a student of the month. Selected students will receive an Amazon gift card, and their story will be featured on our social media. To learn more about this program and nominate a student, visit Freedom Scientific's Student of the Month page.


---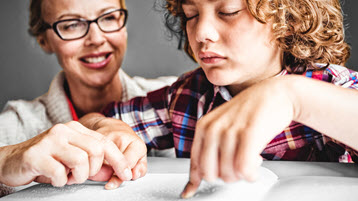 Absorbing all the features of JAWS, ZoomText, or Fusion can be a daunting task. When you add to that the nuances of G Suite, Microsoft Office, and other apps in your toolbox, a few hints would come in handy for both you and your students.
Below are links to several resources that provide teaching strategies and tips for using and customizing our products. Please use these materials to support your students while integrating these programs into your classroom curriculum.
To learn more, download or stream An Introduction to Technology for Teachers of Blind or Low Vision Students.
Resources available on this page:
Training Modules
Our training series for teachers and assistive technology instructors serves as a guide to use when teaching JAWS. Through its targeted lessons, quizzes, and a multitude of free resources, you will gain new skills to help you train your students and clients.
Each month a new training module is published. These modules and lessons build upon each other to expand your knowledge of JAWS. Use the links below to jump to a specific lesson or start at the beginning by opening the table of contents.
Published
Training Modules and Lessons
08/31/2020
Module 1, Introduction to Teaching JAWS
Learn how to:
Navigate the Freedom Scientific Online Training Center
Access JAWS training in DAISY format
Access the Freedom Scientific online webinars and recorded archives
Watch training videos on the Freedom Scientific YouTube Training Channel
Locate accessible typing tutors and teach students basic document navigation
10/30/2020
Module 3, Using FSReader and the JAWS Basic Training
Learn how to:
Explore the JAWS Basic Training Table of Contents
Read and navigate DAISY books
Access the FSReader Help topic
Use the Navigation Toolbar
Play, pause, and skip through narrated audio
Use the Bookmarks and the Search features
Install DAISY training materials using FSReader's Table of Contents
Install DAISY training materials downloaded from the web
11/25/2020
Module 4, Reading and Editing with JAWS
Learn how to:
Perform basic desktop and laptop reading commands
Use the PC, JAWS, and Virtual PC cursors
Perform mouse commands when the JAWS cursor is active
Select, copy, and paste text using the Windows Clipboard
Use the FSClipboard
Select text and images on web pages
Work with error messages virtualized in JAWS
12/21/2020
Module 5, Quickly Get Help in JAWS
Learn how to:
Use JAWS Command Search to find a command
Use the JAWS Find command to locate text
Virtualize the current window to read text in the virtual viewer
Access Speech History to review previously spoken information
Access the JAWS Utilities folder to view useful utilities
02/01/2021
Module 6, Use Popular Tools and JAWS
Learn how to:
Sync content, navigate, and access books in Amazon's Kindle app
Set up and customize Skype features
Perform common tasks within Skype such as starting a new conversation and making a call
Set up, customize, and use Microsoft Teams with JAWS
Navigate the Microsoft Teams user interface
Register and join Zoom webinars and meetings
Navigate the Zoom meeting window
04/01/2021
Module 8, JAWS and Braille
Learn how to:
Set up a refreshable braille display with JAWS
Use the Braille Viewer
Use Braille Study Mode
Familiarize yourself with the Focus Blue controls
Connect Focus Blue to an iOS device
Connect Focus Blue to a computer via USB or Bluetooth
05/03/2021
Module 9, JAWS Dictionary Manager
Learn how to:
Use the JAWS Dictionary Manager
Set up phonetic dictionary rules
Associate sounds with words, abbreviates, and phrases
Pronounce words in different languages
Create, save, and share JAWS dictionary files (JDF)
Accessing Math Content with JAWS and Fusion
JAWS and Fusion enable students to read and study math problems contained in web pages and Microsoft Word documents using both speech and braille. JAWS provides spoken, natural-language descriptions of math expressions using the same terms a teacher would use to explain them in a classroom. This enables students using JAWS or Fusion to read mathematical expressions as their sighted peers do.
If a refreshable braille display is connected, JAWS also shows math expressions on the display using the Nemeth Braille code, a widely used system for reading math in braille.
To learn more, visit Accessing Math Content with JAWS and Fusion.
Downloadable Resources
Many of our archived webinars include reference material to help you create and expand your teaching curriculum. You can download all of our useful teachers' resources by subject using the following links. These are bundled as ZIP files for your convenience.
Typing Resources
Mastering the basics of typing is crucial to anyone using JAWS. Several companies offer applications that can help teach typing skills, such as: