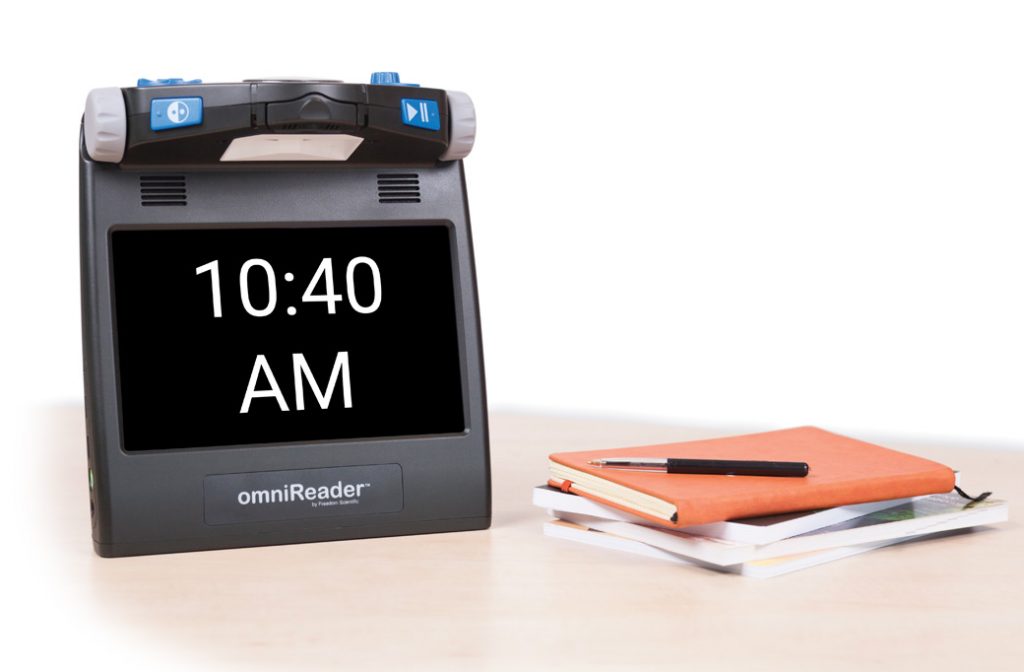 Freedom Scientific proudly introduces the omniReader® – a Portable Scanning and Reading Solution with a Built-In Display.
The omniReader® is a lightweight, portable scanning and reading solution that helps those who are blind or have low vision retain the pleasure of reading. Simply press a button and the omniReader® reads printed text aloud or you can follow along with the magnified text in high-contrast colors on the built-in screen. You can also use the screen to instantly magnify objects to see them more clearly. Thanks to its lightweight design, built-in handle, and long battery life, you can pick it up and use it wherever you want – at home, at the office, and even on-the-go.
Available in US only.
Product Features
Accurately and instantly read and magnify text
Large, easy-to-use controls with customizable controls for low vision and blindness features
Portable and lightweight – ideal to take with you
Magnify small objects and fine print in Live Viewing Mode
Scan and read documents in portrait orientation
Save scanned images and multi-page documents
Connect a headset to listen to documents privately
Connect to a Focus Blue Braille Display to read in Braille
Read from and save to a USB thumb drive
Specifications
Display 10-inch (diagonal) color display
Weight 1.51 Kg , 3.32 pounds
Dimensions 24.9cm x 27.6cm x 10.5cm 9.8 in x 10.9 in x 4.1 in
Power Rechargeable battery and/or AC – 12-hour battery life
Camera 13 MP autofocus HD camera
Input/Output 2 USB ports
Audio Stereo speakers, headset jack
Languages
English* – American, Australian, British, Indian
Danish*
Dutch* – Netherlands and Belgian
French*- European and Canadian
German*
Portuguese*- European and Brazilian
Russian*
Spanish* – Castilian and Latin American
Czech*
Finnish
Hungarian*
Italian*
Norwegian
Polish
Slovak*
Swedish
Turkish*
*Menu and Help also localized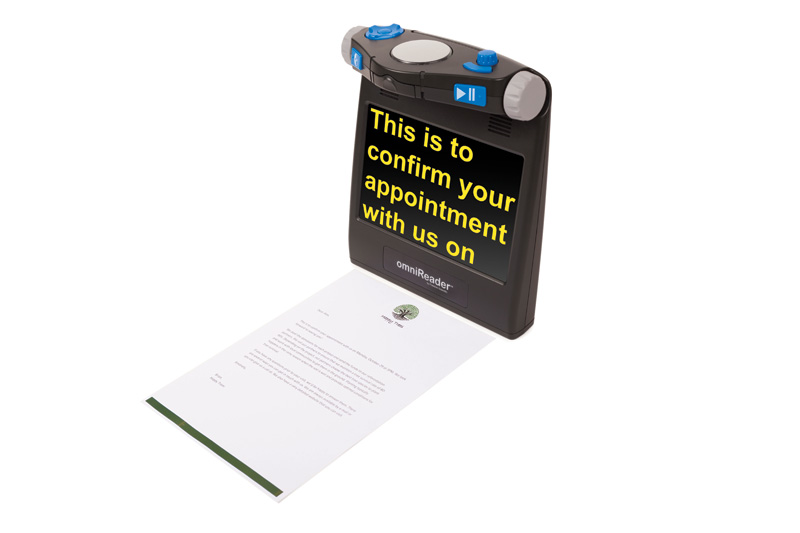 Product Documentation