In just a few short months COVID-19 has reshaped our lives in ways never before imagined. From working and learning remotely to carefully managing our public interactions, our daily routines have changed dramatically. Finding integrated solutions to mitigate these changes critical if we are to continue learning, stay productive and remain independent.
For over 20 years Freedom Scientific's mission has been devoted to removing technology barriers for individuals with blindness and low vision. Our innovative software and hardware solutions promote independence, allowing blind and low vision individuals the same access to information as their sighted peers.
Whether at home, school, work or out in the community, Freedom Scientific, a Vispero brand, has the technology to create a more accessible environment no matter where you are.
Our team is passionate about what we do and committed to the communities that we serve.
---
Solution Packages
We know that each individual situation is unique, and a pre-package solution might not be the right fit for everyone's needs. We are able to leverage the entire Vispero portfolio of products from Freedom Scientific, Enhanced Vision and Optelec to create a custom solution to fit your needs.
Freedom Scientific Low Vision and Blindness products are easily combined into packages or bundles that address many user (or organization) specific software and hardware needs. Whether computer based, stand alone, battery operated or plugged in, our industry leading technology is unmatched in its breadth, versatility, and above all else, its quality and durability.
Below are examples of Freedom Scientific products to create a solution to fit a variety of needs.
---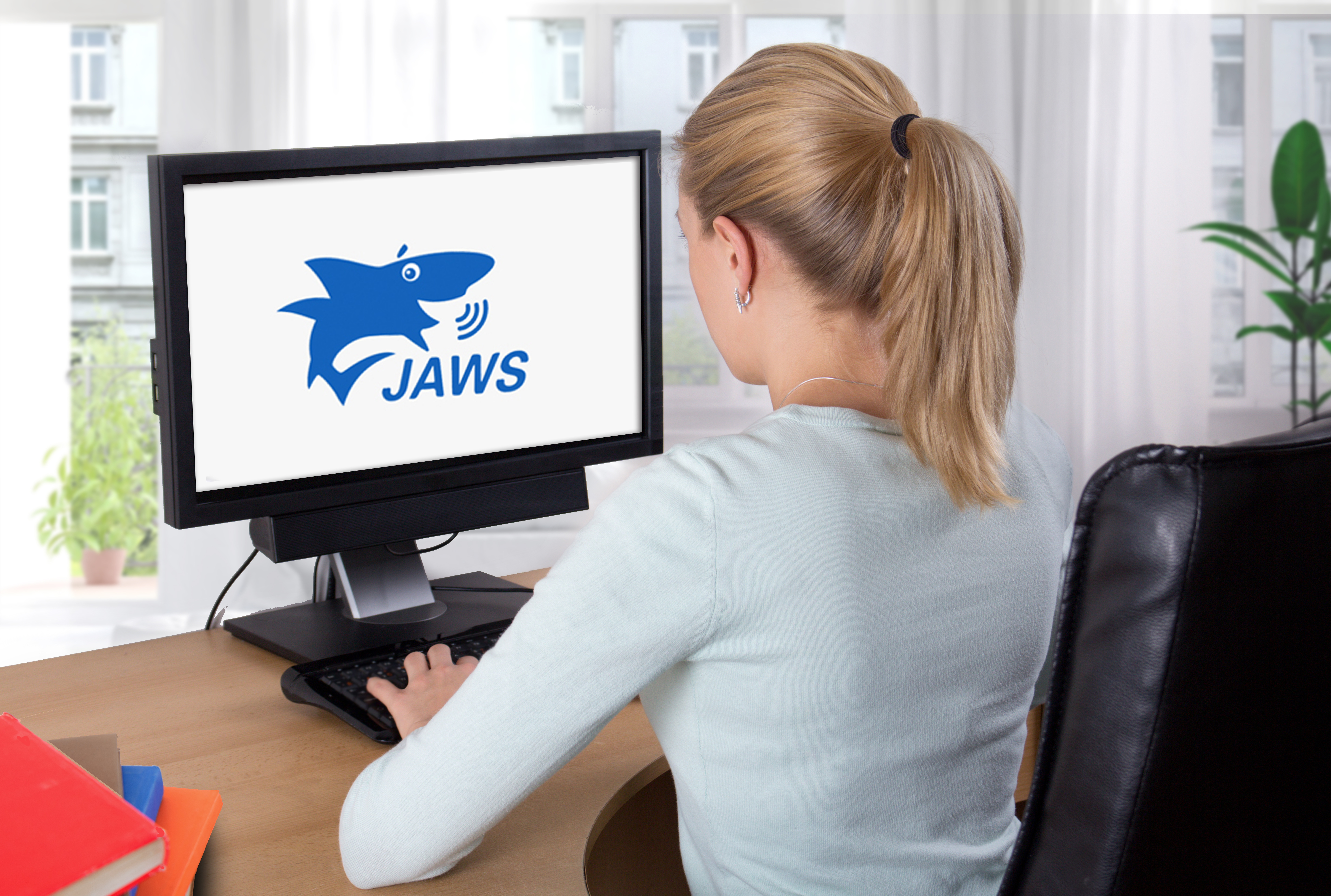 Options for school use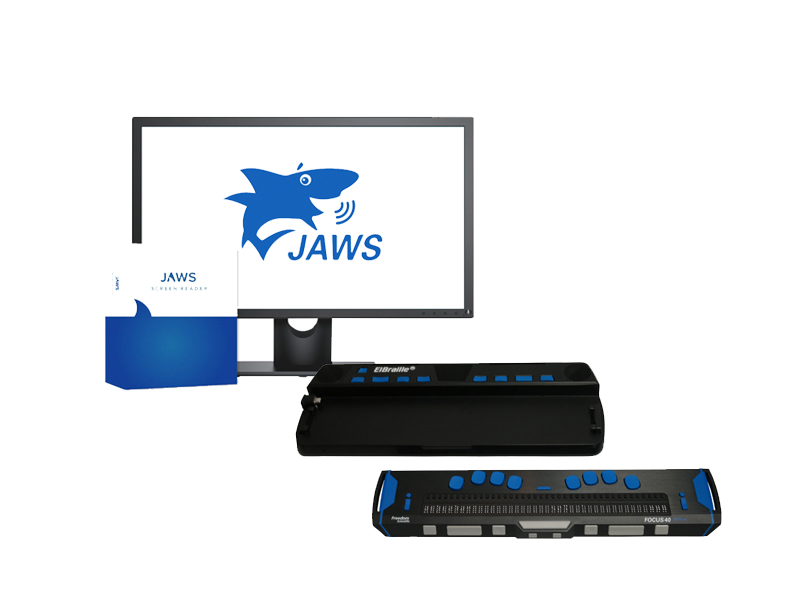 ElBraille with the Focus 40 and JAWS
The ElBraille combines the flexibility of a modern mainstream computer running the Windows® 10 operating system with JAWS® and a Focus 40-cell Braille display with a full Braille keyboard to offer a fully accessible compact solution.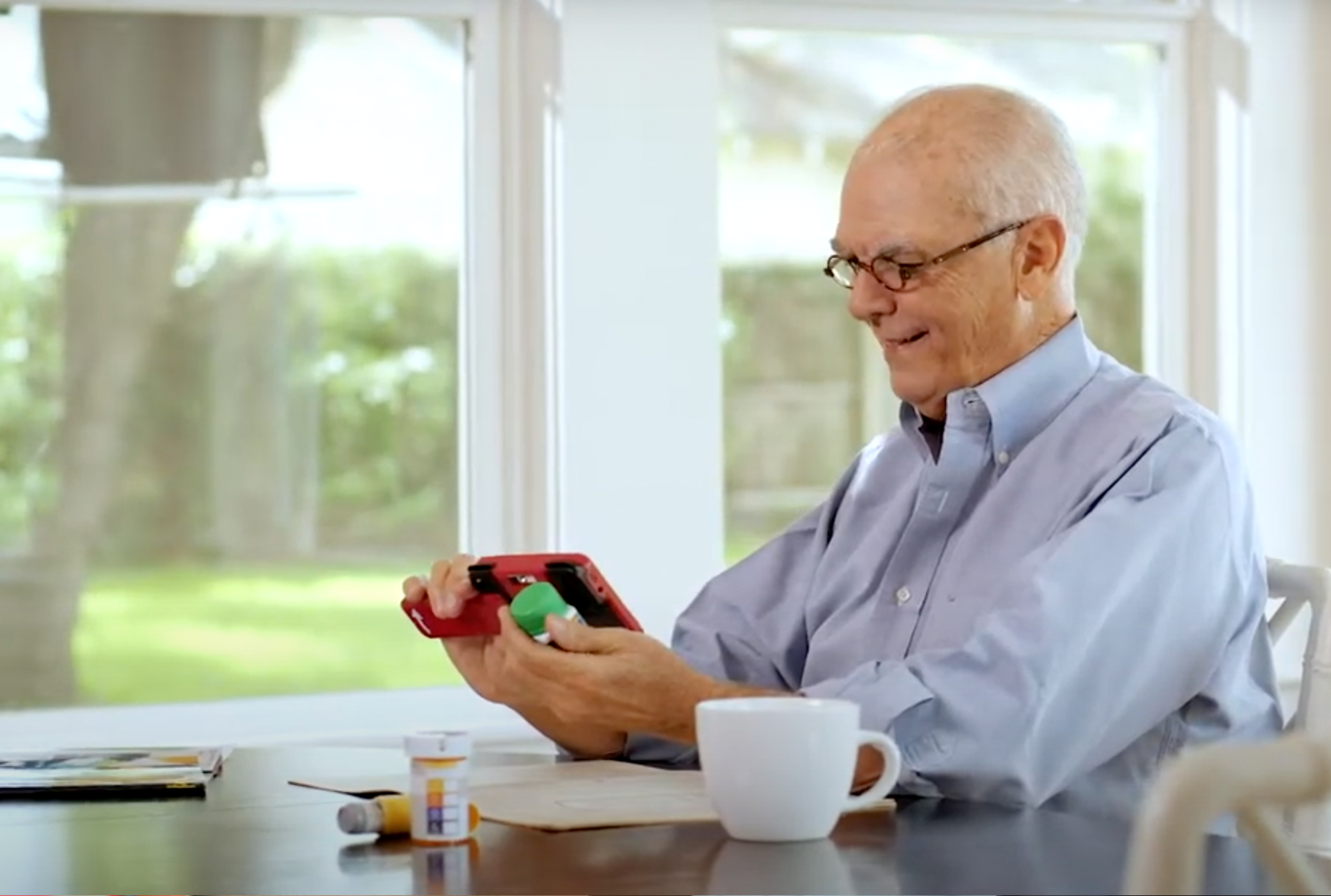 Options for home/remote working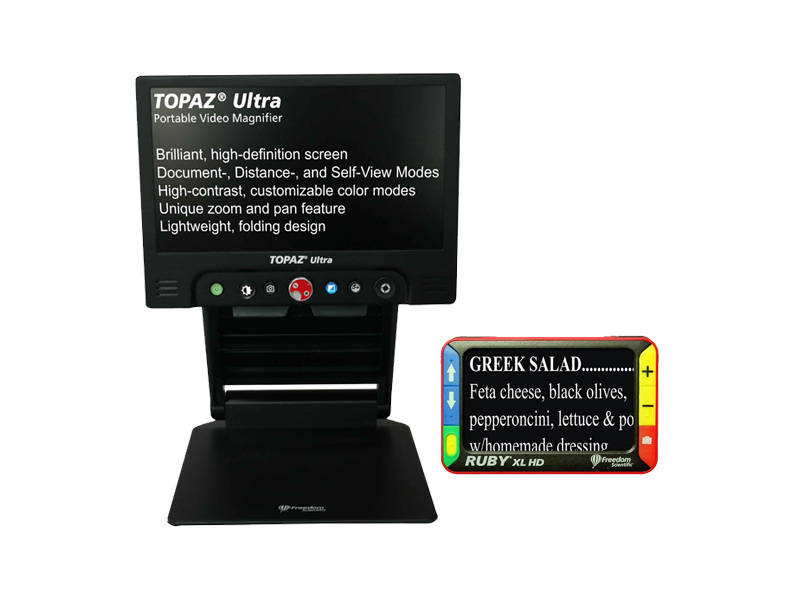 TOPAZ Ultra and RUBY XL HD
The TOPAZ Ultra's foldable, lightweight design makes it easy to move from room to room or take from work to home. TOPAZ Ultra comes in two full-HD screen sizes, 15-inch, and 17-inch. The rotating 3-in-1 camera allows you to view objects on a desk, at a distance, and even self-view. The RUBY XL HD has a larger screen and a high-definition camera for the sharpest possible image but is still small enough to carry with you around the house or around town.
---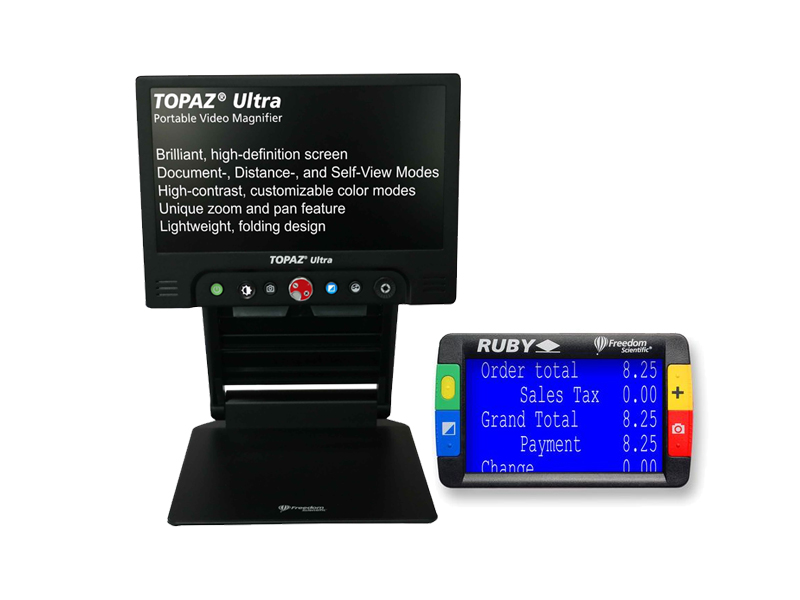 TOPAZ Ultra and a RUBY
The TOPAZ Ultra is a portable magnifier with a unique folding design, making it extremely easy to take with you wherever you go. Its 3-1 camera magnifies up close, at a distance for and self-view. The RUBY is the smallest on-the-go magnifier for spot reading and it fits easily in your backpack or pocket.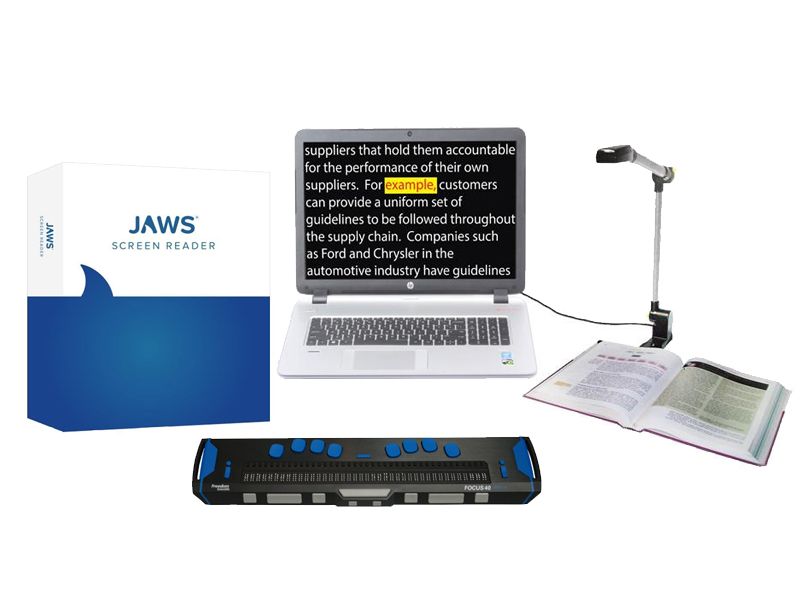 Focus 40 with JAWS and PEARL
The Focus 40 is lightweight and rugged with a compact and user-friendly keyboard. You can connect up to 5 Bluetooth devices, such as smartphones, iPads, and tablets. When you combine the Focus 40 Blue with JAWS®, you have the ultimate in speech and Braille access to your computer. The PEARL combined with JAWS, brings users instant access to printed material with an array of human-sounding voices. The folding camera connects to a PC and snaps a picture of the reading material and begins reading it aloud instantly.
---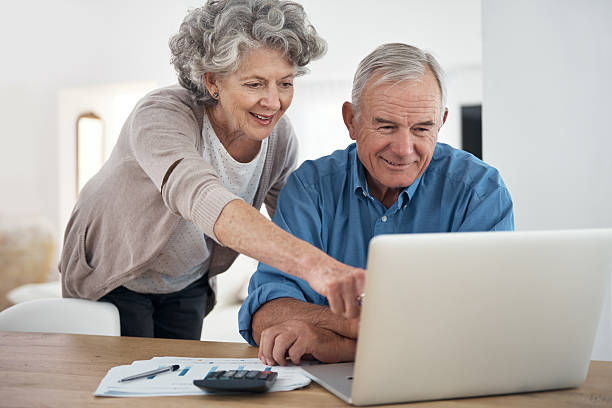 Software Solutions
Freedom Scientific provides software solutions for blind and low vision needs. Whether you are looking for a screen reader, like our world-renowned JAWS software or a magnification software such as ZoomText, or the combination of the two in Fusion.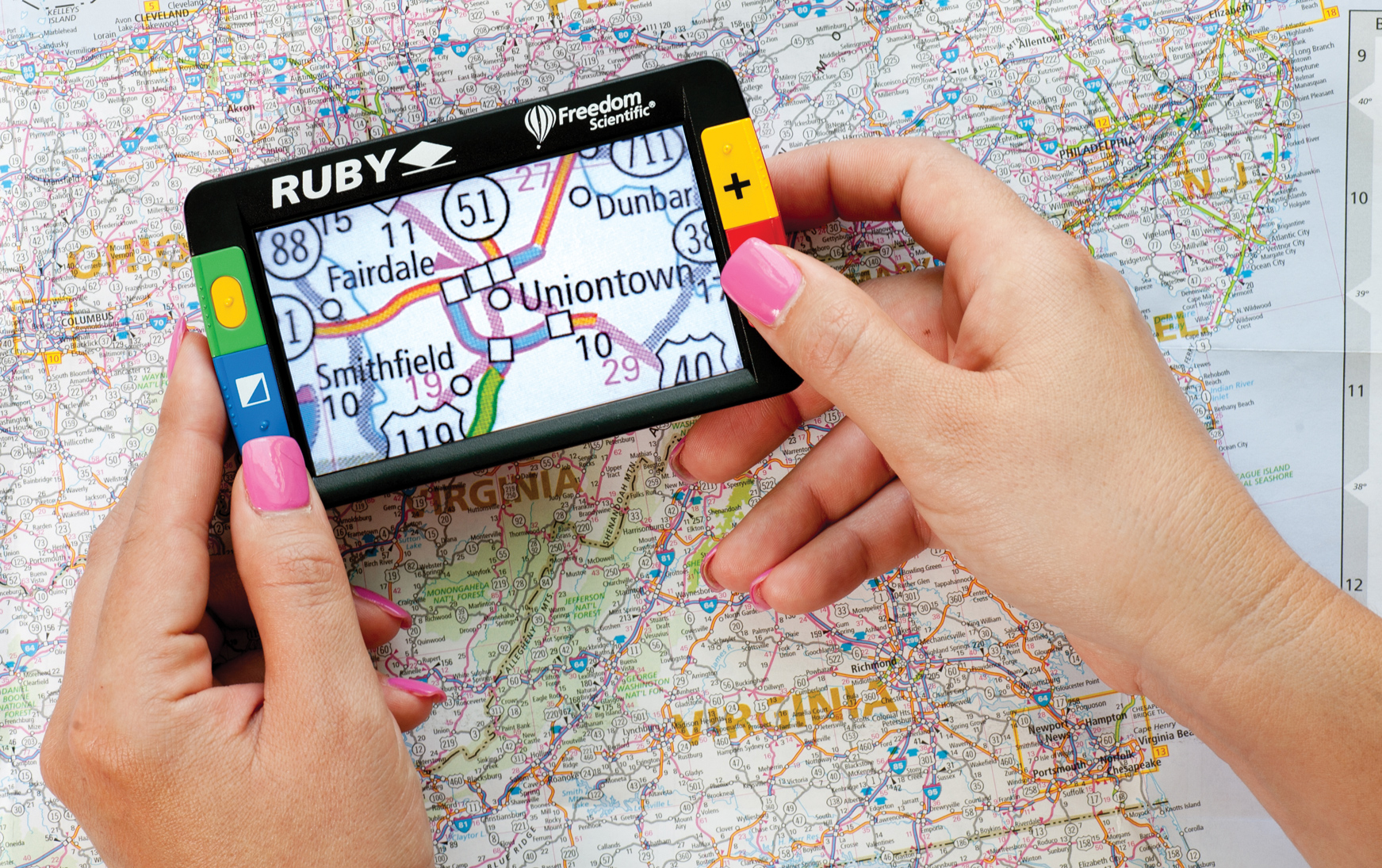 Low Vision Solutions
We offer a wide range of powerful desktop and portable video magnifiers designed for people with low vision conditions. Our magnifiers are made to help with all types of daily activities.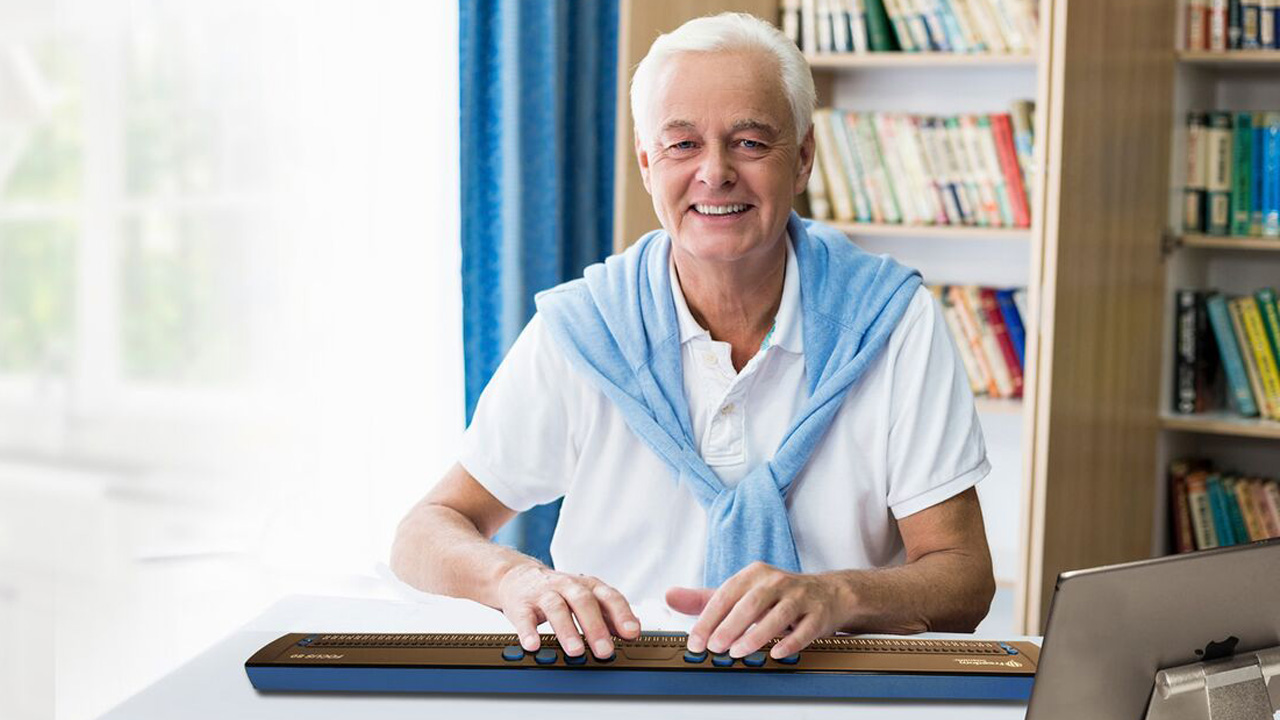 Blindness Solutions
With a wide range of refreshable braille displays, we offer many options to fit your needs. Engineered for portability ruggedness and ease of use, our line of Focus braille displays are lightweight, full-featured and designed to fit the needs of your busy lifestyle.
---
Request to speak with somebody for your customized solution.