LOW VISION SOLUTIONS: TOPAZ®
Desktop Video Magnifier
Simple to Use, Yet Packed with Features. Just flip the switch to turn on the TOPAZ, and three dials are all you need for your basic video magnification functions - increase and decrease magnification, step through the enhanced color modes, and adjust brightness.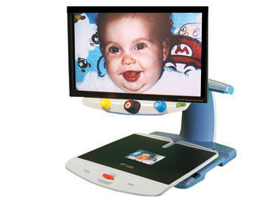 Features
Magnification to 77 times (on a 24-inch monitor)
Choice of monitor sizes: 17-inch, or widescreen 20-inch, 22-inch, or 24-inch
Auto-focus camera
Accurate colors and even illumination with no glare to minimize fatigue
33 screen color modes including high-contrast full color, true-color, and grayscale to fit your viewing needs
Over 8 inches of working space to write and work comfortably
Unique can and bottle holder holds round objects steady
Extra-wide reading table to smoothly glide large books and objects under the camera
Other Helpful Features
Adjustable monitor can be raised or lowered, tilted forward or back, or turned 90 degrees to the right or left
Freeze Frame to stop movement for close inspection of small objects or to keep your place
Focus Lock to maintain focus while writing
Find feature to quickly zoom out, find your place, and zoom back in to read
"I love this device. The low levels of magnification are clearer than others I have seen on the market, not to mention that such low levels are not always provided. I extended my uses of it over time. Now, I never write anything without it, and I often read smaller print items than I would without it. The color contrast options are so helpful, and the brightly colored buttons help me not to have to see the pictures for what they do - I just remember what color does what."
Becca H.